Guest Pianists
Main Content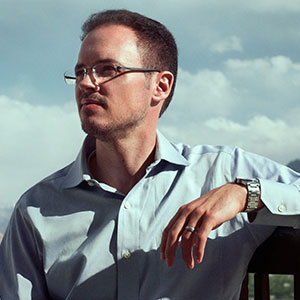 Matthew Bengtson
University of Michigan, Ann Arbor

Critically acclaimed as a "musician's pianist," Matthew Bengtson has a unique combination of musical talents ranging from extraordinary pianist, to composer, analyst, writer, scholar of performance practice, and educator. An advocate of both contemporary and rarely performed music, he offers a diverse repertoire, ranging from William Byrd to numerous contemporary composers with whom he actively collaborates. He has performed concerts as both soloist and collaborator throughout the US and Europe, and appeared with violinist Joshua Bell on NPR's "Performance Today" and XM Satellite Radio's "Classical Confidential." His recordings can be heard on the Albany, Arabesque, Griffin Renaissance, IBS Classical, Navona, and Musica Omnia, and Roméo record labels.
Mr. Bengtson is lauded as one of the most persuasive advocates of the music of Scriabin and Szymanowski. On his complete Scriabin Piano Sonatas, the American Record Guide writes: "Big-boned pianism, rich tonal colors, and dazzling technique are on display here. Has Scriabin ever been played better? Only Horowitz and Richter can compare." Fanfare magazine calls him "a Scriabinist for the 21st century … upon whom future generations can rely for definitive interpretations." In 2015, he toured with the complete Scriabin sonatas, and performed in the historic centennial "Scriabin in the Himalayas" festival in Ladakh, India.
Equally devoted to the music of Karol Szymanowski, he has recorded a 3-CD recording of the solo piano and violin/piano duo music of the great Polish composer, together with violinist Blanka Bednarz, on the Musica Omnia label, again to critical acclaim. The duo has presented numerous all-Szymanowski duo/solo recitals across the United States, and in Poland, including the Karol Szymanowski Museum in Zakopane. His research on Szymanowski mazurkas won a Stefan and Wanda Wilk Prize for Research in Polish Music and is published in the Canadian music journal "Intersections."
Mr. Bengtson enjoys a close relationship with leading Puerto Rican born composer Roberto Sierra, of whose music he has given numerous premieres, including his formidable 12 Estudios rítmicos y sonoros, recorded on the IBS Classical label in Auditorio Manuel de Falla in Granada, Spain. He performs in the "Sierra Duo" with cellist John Haines-Eitzen, with whom he recorded Sierra's complete cello and piano music of Sierra for Albany Records.
Mr. Bengtson is among today's proponents of historical performance practice, preferring to perform music when possible on instruments from the era of the composer. Old-style performing techniques he has put to use in his performances include improvised modulating preludes, ornamented reprises, and original cadenzas. He studied harpsichord with Webb Wiggins at Peabody, and fortepiano with Malcolm Bilson at Cornell University.
Mr. Bengtson studied piano performance as a Harvard undergraduate with Patricia Zander; he also studied contemporary repertoire with Stephen Drury, and chamber music and performance practice with Robert Levin. He earned his MM and DMA degrees in piano performance at the Peabody Conservatory of Music, where he studied with Ann Schein.
Renowned as a writer and music educator, Mr. Bengtson is author of the Massive Open Online Course (MOOC) entitled "Exploring Piano Literature: the Piano Sonata," available on Coursera, and is co-author of "The Alexander Scriabin Companion: History, Performance, and Lore," available from Rowman and Littlefield Press. He is Associate Professor of Piano Literature at the University of Michigan School of Music, Theatre and Dance, where he teaches piano, fortepiano, and courses and seminars in piano repertoire, history and culture.
Mr. Bengtson is a Steinway Artist.
---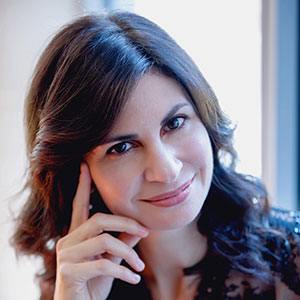 Marina Lomazov
Eastman School of Music

Praised by critics as "a diva of the piano" (The Salt Lake City Tribune), "a mesmerizing risk-taker" (The Plain Dealer, Cleveland), and "simply spectacular" (Chicago International Music Foundation) Ukrainian-American pianist Marina Lomazov has established herself as one of the most passionate and charismatic performers on the concert scene today. Following prizes in the Cleveland International Piano Competition, William Kapell International Piano Competition, Gina Bachauer International Piano Competition, and Hilton Head International Piano Competition, Ms. Lomazov has given performances throughout North America, South America, China, England, France, Germany, Italy, Spain, Austria, Bulgaria, Ukraine, Russia, Japan and in nearly all of the fifty states in the U.S.
Marina Lomazov has given major debuts in New York (Weill-Carnegie Hall) Boston (Symphony Hall), Chicago (Dame Myra Hess Concert Series), Los Angeles (Museum of Art), Shanghai (City Theater) and Kiev (Kiev International Music Festival). She has performed as soloist with the Boston Pops, Rochester Philharmonic, Eastman Philharmonia, Chernigov Philharmonic (Ukraine), KUG Orchester Graz (Austria), Bollington Festival Orchestra (England), Piccolo Spoleto Festival Orchestra, Brevard Festival Orchestra and South Carolina Philharmonic, to name a few. New York Times chief music critic Anthony Tommasini describes a recent New York performance as "dazzling" and Talk Magazine Shanghai describes her performances as "a dramatic blend of boldness and wit".
In recent seasons, Lomazov has performed extensively in China, including concerts in Shenyang, Shenzhen, Chengdu, Dalian, Guangzhou, Jinan, Nanjing, Qingdao and Yingkou. She is a frequent guest at music festivals in the U.S. and abroad, including Perugia Music Fest (Italy), Hamamatsu (Japan), Chautauqua, Brevard, Eastman, Burgos (Spain), Sulzbach-Rosenberg (Germany) and Varna (Bulgaria), among others. She has recorded for the Albany, Centaur and Innova labels and American Record Guide praised her recent recording of piano works by Rodion Shchedrin for its "breathtaking virtuosity". She has been featured on National Public Radio's "Performance Today", the "Bravo" cable channel and WNYC's "Young Artist Showcase" and her recordings have been broadcast more than 100 times by WNYC and WQXR in New York, WFMT in Chicago and WBGH in Boston.
Before immigrating to the United States in 1990, Marina studied at the Kiev Conservatory where she became the youngest First Prize Winner at the all-Kiev Piano Competition. Ms. Lomazov holds degrees from the Juilliard School and the Eastman School of Music, the latter bestowing upon her the highly coveted Artist's Certificate – an honor the institution had not given a pianist for nearly two decades. Her principal teachers include Natalya Antonova, Jerome Lowenthal and Barry Snyder. Also active as a chamber musician, Lomazov has performed widely as a member of the Lomazov/Rackers Piano Duo. The duo garnered significant attention as Second Prize winners at the Sixth Biennial Ellis Competition for Duo Pianists (2005), the only national duo piano competition in the United States at that time. As advocates of modern repertoire for duo piano, they have given premieres of numerous works across the United States, including several works written specifically for them.
Ms. Lomazov is a Professor of Piano at the Eastman School of Music. She has served as jury member for the Cleveland International Piano Competition (Young Artists), Hilton Head International Piano Competition, Eastman International Piano Competition, Minnesota International Piano e-Competition, National Federation Biennial Young Artist Auditions and is currently serving as a chair for National Classical Music Panel for YoungArts, the only organization in the US that nominates U.S. Presidential Scholars in the Arts. For 17 years, she served on the faculty of the University of South Carolina School of Music, where she held the chair of Ira McKissick Koger Professor of Fine Arts Music and is currently holds a Guest Artist Residency. Together with her husband and piano duo partner Joseph Rackers, she co-founded and serves as Co-Artistic Director of the Southeastern Piano Festival in Columbia, SC.
Ms. Lomazov is a Steinway Artist.
---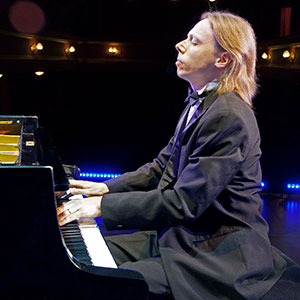 Péter Tóth
Fairleigh Dickinson University, Madison, New Jersey

Hungarian pianist Peter Toth has concertized in many countries in Europe, including Hungary, Serbia, Poland, Austria, Slovakia, Germany, Russia, France, Holland, Spain, Italy, and Switzerland. In addition, he performed in Japan, South Korea, Peru, Costa Rica, China, Australia, and the United States.
As a competitor, Dr. Toth has won top prizes at numerous piano competitions, such as the American Paderewski Piano Competition (2013), the Franz Liszt International Piano and Voice Competition in Los Angeles (2010), and the Franz Liszt International Piano Competitions in Budapest (2001) and Weimar (2000). His first released CD recording won the Grand Prize of the Hungarian Liszt Society (2006).
In 2015, Dr. Toth earned his Doctor of Musical Arts degree in piano performance at the University of Texas at Austin. His scholarly activities have included the investigation of the progressive harmonic language of Franz Liszt's piano music. His article, "Symmetrical Pitch Constructions in Liszt's Piano Music", was published in the Spring of 2016.
In 2017, Dr. Toth joined the music faculty of Fairleigh Dickinson University (Madison, New Jersey). He was also a music faculty member at Rutgers University (New Brunswick, New Jersey) between 2016 and 2019. His students have garnered top prizes at various piano competitions.
He has been member of the American Franz Liszt Society since 2011.