Southern Illinois Children's Choir
Breadcrumb Navigation
>

Southern Illinois Children's Choir
Main Content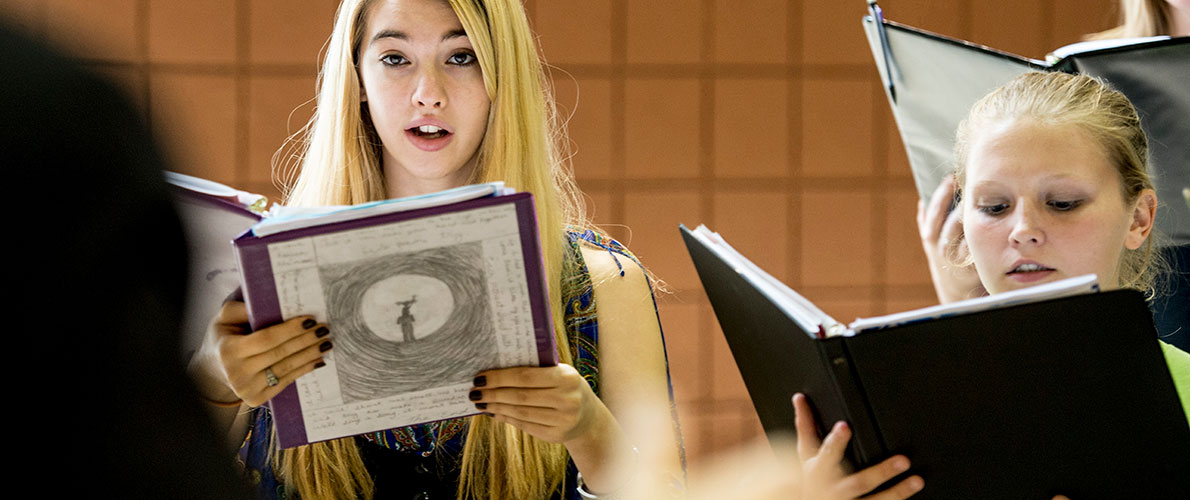 SICC IS BACK! Singing begins on August 17th!
The Southern Illinois Children's Choir (SICC) exists to enhance children's lives through choral music education and performance, while building a world-class choir. The SICC is organized for the musical enrichment of area children and the enhancement of the musical life of southern Illinois.
Below, you'll find information on the program, performances, history, honors, and community service associated with SICC.
Mission Statement

In carrying out its mission, the guiding principles are:

SICC is open to and encourages participation of boys and girls throughout southern Illinois regardless of ethnic background or economic status.
SICC provides children with a unique and important educational, social and artistic musical experience.
SICC believes children possess a tremendous capacity for knowledge and growth.  By striving for excellence in a disciplined and encouraging atmosphere, children can reach their full potential in choral artistry.
SICC believes that educating children in the best choral repertoire from the past and present preserves an important part of our culture for future generations.

Program

The Southern Illinois Children's Choir program, now in its second decade, is open to girls and boys with unchanged voices. The community-based organization consists of four treble choirs, each based on the skill levels and ages of the children.

Kinder Choir is an introductory music experience to open the door to the world of singing and music. It is a non-auditioned choir for children age five through third grade. It meets for 45 minutes weekly, with the focus on age-appropriate music readiness activities.  Two performances are scheduled during the year, including one each in the fall and spring semester.

Apprentice Choir is an auditioned beginning level choir for singers in grades one through five. Emphasis is placed on ear training and in-tune singing, with a curriculum based on the Kodály music principles of singing games/activities.  Members meet weekly for 90 minutes.  Two performances are scheduled during the year, including one each in the fall and spring.

Singer Choir is an auditioned intermediate level choir for grades four through eight.  Basics of vocal production and musicianship are taught, with an emphasis on ear training, in-tune singing and the development of performance technique.  The choir rehearses and performs as an individual choir and combined group.  Singers remain at this level until they have mastered the skills and have the experience required to move to the Chorister Choir.

Chorister Choir is SICC's premier performing and touring group for grades four through ten. This ensemble is for the singer who has demonstrated the ability to sing independently on pitch and in-tune with other voices. Each singer is assessed as being able to learn complex melodies and harmonies.  Rehearsals move at a faster pace to meet the challenge of learning and performing sophisticated and advanced repertoire. The director may accept new singers based on experience, ability, age and maturity level.

Rehearsals are each Tuesday evening of the academic school year at Altgeld Hall on the SIUC campus. Choral music educators include Stan Willis and Alice Berry.   

Auditions take place at the SIUC School of Music at the beginning of the fall and spring semesters. Potential members should sing with a clear tone that blends well with others, sing in tune with an unchanged voice and demonstrate a good sense of rhythm while exhibiting self-discipline, attentive behavior and a positive attitude. For more information or to schedule a child for an audition, please call the School of Music at 53M-USIC (536-8742) or e-mail Alice Berry at joyousinging@yahoo.com.

Tuition is $80 for KinderChoir, $95 for Apprentice Choir, and $125 for the Singer and Chorister Choirs. Members of the Singer and Chorister Choirs have additional uniform rental/purchase costs. Families with more than one child in choir receive a $15 discount on registration fees for each additional child, plus a $15 discount on tuition. Semester payment plans and other payment options are available. Needs-based scholarships are also available. Tuition is payable to SIUC for SICC. Whether payment is by the semester or by the year, it is assumed that families are making a commitment for a full year.

Annual Performances

Concerts in December and May
WSIU studio taping for WSIL TV-3 "Sounds of the Season" with eight viewings
Arts in Education Festival, SIUC

Performance History

1990

Founded in the spring with 45 charter members

1992

State Capitol Rotunda in Springfield
Illinois Music Educators All-State Conference in Peoria

1993

Piccolo Spoleto Festival in Charleston, South Carolina, touring the Southeast

1994

Shepley Music and Art Series at Christ Church Cathedral in St. Louis, premiering Gregg Smith's Four Sandburg Songs.
A set of folk songs collected from members of the international community recorded at SIUC as part of a grant from the Association of International Educators.

1995

"Illinois" for the Lincoln Academy of Illinois Convocation, Shryock, SIUC
Washington, D.C., Lincoln Legacy awards, National Cathedral and in the Grand Foyer Series at the Kennedy Center for Performing Arts

1996

Chicago with "All God's Children."  St. James Cathedral and the Chicago Cultural Center, and "The Star-Spangled Banner" at a  White Sox baseball game

1997

Opryland in Nashville and the Museum of Art in Knoxville, Tennessee

1998

Canada and performed with several children's choirs

1999

Crescent City Children's Choral Festival in New Orleans, Louisiana
St. Louis Cathedral Festival repertoire and solo choir

2000  

Branson, Missouri to celebrate a successful concert season

2001

"The Star-Spangled Banner" at a St. Louis Cardinals' baseball game

2002

"The Star-Spangled Banner" at a St. Louis Cardinals' baseball game
International Children's Choir Festival in Canterbury, England, performing solo and with seven other children's choirs in Canterbury Cathedral with Henry Leck, Director of the Indianapolis Children's Choir and David Flood, Organist and Master of Choristers at Canterbury Cathedral
London at St. Martin-in-the-Fields Church and the Methodist Central Hall 

2004

Tchaikovsky's "The Nutcracker" with Southern Illinois Symphony Orchestra

2005

Heritage Music Festival in Chicago, Illinois, training with well-known composers and singing with children's choirs from throughout the United States in the Rockefeller Chapel at the University of Chicago and Alice Millar Chapel at Northwestern University
"God Bless America" at the St. Louis Cardinals' baseball game
Poshard Foundation Dinner for Abused Children, John A. Logan College, Carterville
Murphysboro Youth and Recreation Center Fundraiser
"Lights Fantastic" Holiday Sing, sponsored by WSIL-TV, University Mall

2006

Second Annual Community Music Fest, Grace United Methodist Church
"Singing is Fun!: Concerts in the Schools" tour in Carbondale, Herrin, Murphysboro
Mozart's "Don Giovanni" with the Southern Illinois Festival Orchestra, Mozart's 250th
"God Bless America" at St. Louis Cardinals' baseball game in the new Busch Stadium
Marjorie Lawrence Opera Theater, Humperdinck's "Hansel and Gretel" with Southern Illinois Symphony Orchestra, Shryock, SIUC
Poshard Foundation Dinner for Abused Children, John A. Logan College, Carterville
"Lights Fantastic" Holiday Sing, sponsored by WSIL-TV 3, University Mall
Pepsi MidAmerica Christmas Dinner, SIUC Student Center Ballrooms

2007

Community Memorial Celebration of Martin Luther King, Jr., Carbondale Civic Center
Third Annual Community Music Fest, Grace UMC, Carbondale
"Singing is Fun!: Concerts in the Schools" tour at Cobden, Anna, and Trico
"God Bless America" at a St. Louis Cardinals' baseball game
Jackson/ Perry County Teachers' Institute, Shryock Auditorium, SIUC

2008

Southern Illinois Unity Service "The Life and Legacy of Martin Luther King Jr"
John A. Logan Birthday Breakfast for historic Logan Museum/Logan Days
Fourth Annual Community Music Fest, Grace UMC, Carbondale
"Singing is Fun!: Concerts in the Schools" at Herrin Civic Center/Herrin Elementary
"Illinois" for The Lincoln Academy of Illinois Convocation, Shryock, SIUC
Music in the Parks Festival, Eureka, MO / Six Flags St. Louis: 1) superior rating, a trophy for Middle School Treble Choir AAA; 2) a trophy and the distinction of being the Best Overall Elementary School Choir; 3) 11-year-old member of the Chorister Choir earned the Outstanding Soloist medallion from among the participating twenty-eight choirs from Alabama, Illinois, Indiana, Kentucky, Missouri, Oklahoma and Tennessee
Tchaikovsky's "The Nutcracker" with the Southern Illinois Festival Orchestra, Marion Cultural and Civic Center and Shryock Auditorium, SIUC
"The Star-Spangled Banner" for Southern Illinois Miners ballgame, Marion, IL
"Illinois" at the Abraham Lincoln Statue Dedication for the unveiling of a 9-foot-tall bronze sculpture at the Fifth District Appellate Courthouse, Mt. Vernon, IL, with Supreme Court and Appellate Court Justices in attendance. Sponsored by Illinois Bar Association and the Mt. Vernon Abraham Lincoln Bicentennial Committee
Field Studies International invitation to participate in the National Children's Choir Choral Festival in New York City April 17-20, 2009
Poshard Foundation Dinner for Abused Children, John A. Logan College, Carterville
Kids for Kids' Sake for Bangladesh orphanages/schools, Carbondale Longbranch
Opening Act Paradise Alley Players "The Best Christmas Pageant Ever," Marion CCC

2009

John A. Logan Birthday Breakfast for historic Logan Museum/Logan Days, including celebration of Lincoln's 200th Birthday, Murphysboro
15th Annual Early Childhood Recognition Reception, John A. Logan College, Carterville
National Children's Choir, Henry Leck, conductor, Carnegie Hall, New York City, April 19; SICC and nine other choirs from New York to California
Fifth Annual Community Music Fest, Grace United Methodist Church, Carbondale
Southern Illinois Christmas Nativity Concert, Church of Jesus Christ LDS, Carbondale
"Lights Fantastic" Holiday Sing, sponsored by WSIL-TV 3, University Mall

2010

Sixth Annual Charity Breakfast for Catholic Social Services, KC Hall, Murphysboro
"A Tapestry of Women" featuring SIUC Chamber Women, Carbondale Community High School Chamber Women, SICC KinderChoir, Carbondale First Presbyterian Church
"Lights Fantastic" Holiday Sing, University Mall, sponsored by WSIL-TV 3, Carbondale
Tchaikovsky's "The Nutcracker" with Willow Street dancers and Southern Illinois Symphony Orchestra, Shryock, SIUC

2011

Southern Illinois Christmas Nativity Concert, Exhibit of 400 Nativities, Church of Jesus Christ LDS, Carbondale

2012

Tchaikovsky's "The Nutcracker" with Willow Street dancers, Southern Illinois Symphony Orchestra, Shryock, SIUC
Music in the Parks Festival, Eureka, MO and Six Flags, St. Louis
Puccini's "La Bohème" with Southern Illinois Festival Orchestra, Carterville High School Performing Arts Center

2013

Bizet's "Carmen" with Southern Illinois Festival Orchestra, Carterville High School Performing Arts Center

2014

Donizetti's "Lucia di Lammermoor" with Southern Illinois Festival Orchestra, Carterville
'Mozart in Motion" ballet, solo choir "Ave verum corpus" with Southern Illinois Festival Orchestra, Marion Cultural and Civic Center
WorldStrides Heritage Performance Program invitation to perform in National Children's/Middle School Choir March 20-23, 2015 in New York City
"Celebrating America" with SIUC Concert Choir and Southern Illinois Symphony Orchestra, Shryock, SIUC

2015

Carterville Chamber of Commerce Dinner, Carterville Community Center
National Children's/Middle School Choir, Greg Gilpin, conductor, March 23, Carnegie Hall, New York City

Honors

The Lincoln Academy of Illinois Convocation 2008
Music in the Parks Festival (1) superior rating for Middle School Treble Choir AAA (2) Best Overall Elementary School Choir (3) 11-year-old member, Madeline Rogers, Outstanding Soloist, 2008
Abraham Lincoln Statue Dedication for Lincoln Bicentennial, 5th District Appellate Courthouse, Mt. Vernon, Illinois' Bicentennial 2008
The Southern Illinoisan Thumbs-Up 2008
WSIL-TV3 Class Act 2008
GUMC Fifth Annual Music Fest Recipient 2009
One of ten U.S. choirs selected for National Children's Choir performance at the world-renowned Carnegie Hall, New York City, April 19,2009 
Music in the Parks Festival – First place trophy, Middle School Treble Choir AAA, 2013
The Southern Illinoisan - No.81 of 99, "Southern Illinois in 99 Things," 2014
One of six U.S. choirs selected for National Children's/Middle School Choir performance at Carnegie Hall, March 22, 2015

Community Service

African American Museum
American Cancer Society Relay for Life
Carbondale Boys and Girls Club
Carbondale Good Samaritan House
Carbondale Women's Center
Coach Kill Cancer Fund
Murphysboro General John A. Logan Birthday Breakfast for the Logan Museum
Murphysboro Youth and Recreation Center
Poshard Foundation for Abused Children
Southern Poverty Law Center