Outside The Box
Main Content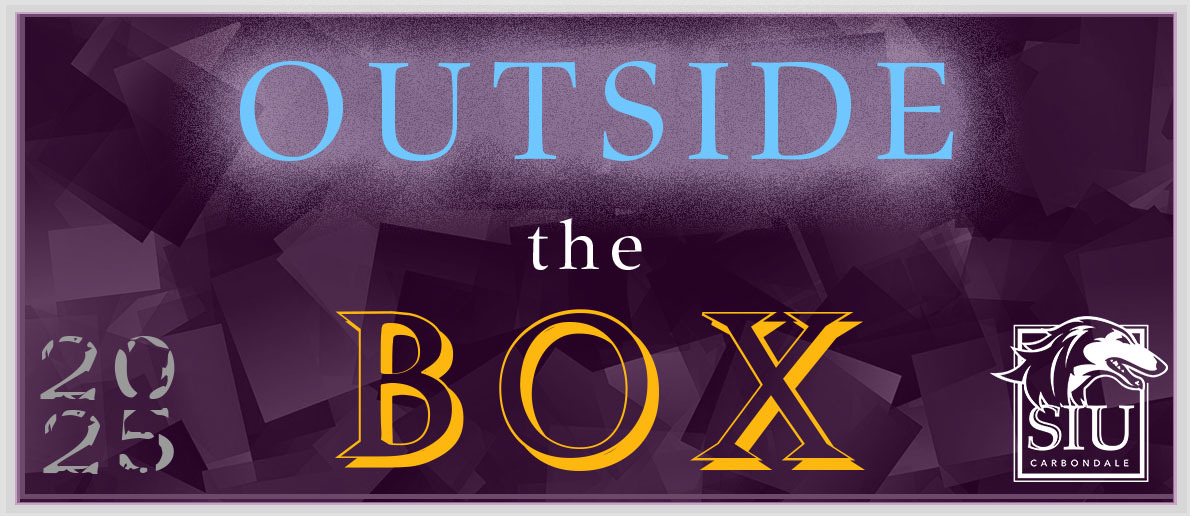 Now in its fifteenth year, Outside The Box builds on its legacy as an exceptional annual new music festival and concert series. Composers and performers of international acclaim join forces with members of the SIU School of Music performance faculty to create an atmosphere of exciting, engaging, contemporary concert music. All events are free and open to the public. Please join us!
Featured Artists
John Orfe
John Orfe's music has been performed worldwide. He has fulfilled commissions from the Sacrum Profanum Festival (Krakow, Poland), the Jedediah Foundation (MA), Illinois Wesleyan University, Choral Arts Ensemble (MN), Two Rivers Chorale (MN), Music Institute of Chicago, Champaign-Urbana Symphony Orchestra, Diocese of Peoria, Peoria Symphony Orchestra, and numerous chamber, choral, orchestras and festivals. Ensembles that have performed his music include the Chicago Symphony Orchestra, Minnesota Orchestra, Vancouver Symphony Orchestra, Spokane Symphony Orchestra, Mannes American Composers Ensemble, the Mizzou University Singers, University of Illinois at Urbana-Champaign combined Glee Clubs, and new music ensembles at the North Carolina School of the Arts, UIUC, and Bowling Green State University. His music has earned praise from The New York Times, LAWeekly, San Francisco Chronicle, Boston Globe, Die Welt, Berkshire Fine Arts, and Hamburger Abendblatt. He is a winner of a Jacob K. Javits Fellowship, a Tanglewood Music Center Fellowship, the William Schuman and Boudleaux Bryant Prizes from BMI, fourteen Standard Awards and the Morton Gould Award from ASCAP, the Heckscher Prize from Ithaca College, the Charles Ives Scholarship from the American Academy of Arts and Letters, and first prizes in national competitions held by NACUSA, the Pacific Chorale, Choral Arts Ensemble, Eastern Trombone Workshop, and New Music Delaware. He holds a Bachelor of Music degree from the Eastman School of Music and a Bachelor of Arts in Religion from the University of Rochester, as well as Master of Music, Master of Musical Arts, and Doctor of Musical Arts degrees from the Yale School of Music. He served as the Peoria Symphony Orchestra's first-ever Composer-in- Residence and was honored by InterBusiness Magazine as one of Peoria's "40 Leaders Under Forty." Prior to his full-time appointment at Illinois Wesleyan University, he received Bradley University's Presidential Appreciation Award. Music of Dr. Orfe appears on the Centaur, Delos, and Nonesuch labels.
As piano soloist and collaborative artist, Orfe has earned critical acclaim for his interpretations of five centuries of keyboard repertoire ranging from the canonic to the arcane. As the core pianist and a founding member of critically-acclaimed new music ensemble Alarm Will Sound, he has performed in Carnegie Hall, Miller Theatre, Roulette, the World Financial Center, and Symphony Space in New York; Disney Hall, Mondavi Hall, and Hertz Hall in California; and music series and festivals across the United States, Europe, and Asia, including Beijing, Nanning, Seoul, Moscow, St. Petersburg, Amsterdam, Berlin, Bremen, Bolzano, Cork, Hamburg, London and Krakow. The New York Times praised his "virtuosic ardor" in performances of György Ligeti's Piano Études, and icareifyoulisten.com hailed his performance of György Ligeti's Piano Concerto as "effortless." His solo piano transcription of John Adams' Short Ride in a Fast Machine was hailed as "a knockout" by the Boston Globe and "breathtaking" by the San Francisco Chronicle, which also praised his "hypervirtuosic" performances of Conlon Nancarrow. Orfe gave the US premiere of Steve Reich's "Piano Counterpoint" at Stanford University's Bing Hall in March 2013 as well as the work's East Coast premiere at the Metropolitan Museum of Art in November 2013. His sold-out Zankel Hall performance of György Ligeti's Piano Concerto with Alarm Will Sound in March 2018 was praised by Berkshire Fine Arts, Concerto.net, NewYorkClassicalReview.com, and the New York Times, which called it "magnificent throughout" and "twenty-five of the best minutes of music heard all year." He has recorded on the Canteloupe, Nonesuch, and Parma labels.
---
Jeff Kaiser
jeffkaiser.com

Jeff Kaiser (Ph.D. in Music, Integrative Studies, University of California, San Diego) is a music technologist, trumpet player, composer, conductor, and scholar. Classically trained as a trumpet player, Kaiser now views his traditional instrument as hybrid with new technology in the form of software and hardware interfaces that he creates for his performances and recordings. Kaiser gains inspiration and ideas from the intersections of experimental composition and improvisation and the timbral and formal affordances provided by combining traditional instruments with emerging technologies. The roots of his music are firmly in the experimental traditions within jazz, improvised, and Western art music practices. Kaiser considers his art audio-centric, but he also works with live video, tracking, and interactive technologies. He has performed in China, Mexico, and throughout Europe and the United States. His work is featured on Clean Feed Records, Leo Records, NineWinds, Cuneiform Records, Espacio SInkro, and his own label, pfMENTUM, among others.
Embracing the idea of being an artist/scholar, Dr. Kaiser has also presented at national and international conferences, including the Society for Ethnomusicology, the International Society for Improvised Music, SPARK, and invited presentations at colleges and universities. His scholarly work ethnographically explores contemporary musicians who use new, repurposed and reinvented electronic technologies, and critically examines how these musicians conceptualize their practice. He is particularly interested in changing notions of agency, instruments, and virtuosity, and how artists, audiences, and critics construct what is valuable and desirable in these emerging fields. In addition to documenting how creative individuals configure technologies for their own purposes, Kaiser argues that technologies can also configure musicians and musical communities by affording specific ways of creating sonic and social value.
---
Jordan Munson
www.jordanmunson.com/

Jordan Munson is a composer, performer, and multimedia artist. His work explores memory and our relationship to technology. Drawing from backgrounds in formal percussion performance training, improvisation, pop, and sound design, his compositions juxtapose subtle landscapes of richly layered textures with driving melodic arrivals. Munson utilizes technology to interpret natural sounds and vice versa, focusing on the transmission losses that occur from this constant re-synthesis.
As a performer, Munson showcases his passion for combining sound with video art and light into a singular immersive experience. His frequent collaborators include Scott Deal and Michael Drews as a member of the trio Big Robot, and composer/vocalist Hanna Benn. He has performed alongside musicians Nico Muhly, R. Luke DuBois, and Bora Yoon.
Institutions such as the University of Kentucky, the University of Alaska at Fairbanks, and the University of California at San Diego (UCSD) have premiered his music. His video art has shown worldwide, including at the Musicacoustica Festival in Beijing, the New World Center, and The Phillips Collection. Album releases include four solo records under his name, with Big Robot, the duo Mana2, and under the moniker Casterplast.
Munson's awards include a Presidential Fellowship in Digital Arts and Human Values from Wabash College and a Creative Renewal Arts Fellowship from the Arts Council of Indianapolis.
---
Andrew Staupe
www.gingarts.com/artists/andrew-staupe/

Pianist Andrew Staupe is emerging as one of the distinctive voices in a new generation of pianists. Andrew has appeared as soloist with many of the top orchestras throughout the United States and in Europe, including the Baltimore Symphony, San Diego Symphony, Houston Symphony, Minnesota Orchestra, Fort Worth Symphony, Colorado Symphony, Maryland Symphony, Indianapolis Symphony, the George Enescu Philharmonic in Romania, the Orquestra Filarmónica de Bogotá in Colombia, and many others. He has collaborated with distinguished conductors Osmo Vänskä, Cristian Macelaru, Jahja Ling, Gerard Schwarz, Andrew Litton, Lucas Richman, Rossen Milanov, Josep-Caballé Domenech, and Philip Mann among numerous others. Andrew has performed recitals across the United States and extensively in Europe, appearing at Carnegie Hall, the Amsterdam Concertgebouw, Rachmaninov Hall in Moscow, the Schumann Haus in Leipzig, and the Salle Cortot in Paris. His Carnegie Hall debut was critically acclaimed, as New York Concert Review stated that "Mr. Staupe gave a brilliant performance, handling the virtuosic demands with apparent ease…I was stunned- this was one of the most incredible performances of this masterpiece I have ever heard, live or recorded. I wanted to shout out to the audience, 'Wake up! Don't you realize you have had the privilege of hearing a once-in-a-lifetime performance!'" 
An avid chamber musician, Andrew has jammed with legendary vocalist Bobby McFerrin, played Tangos with the Assad Brothers, and has collaborated with many other instrumentalists and singers. Most recently, his debut recording of the complete works for piano and violin of Carl Nielsen, with Danish violinist Hasse Borup, has been released in October 2020 on the acclaimed Naxos label. Andrew has a keen interest in performing new music and has collaborated with composers Howard Shore, Lowell Liebermann, Augusta Read Thomas, Yehudi Wyner, Sarah Kirkland Snider, Libby Larsen, Pierre Jalbert, Richard Lavenda, and debuted Christopher Walczak's Piano Concerto in August 2020. He will premiere renowned Norwegian composer Ketil Hvoslef's Piano Concerto No. 2 in the upcoming 2022-2023 concert season. Other notable performances include concerts at Steinway Hall in New York, the Kennedy Center, and the Library of Congress in Washington DC. He has been a featured guest on American Public Media's "Performance Today," and appeared on Garrison Keillor's "A Prairie Home Companion" in 2004.
Deeply committed to teaching, Andrew is an Assistant Professor of Piano at the University of Houston, and formerly taught at the University of Utah. He is Artistic Director of the Young Artist World Piano Festival in Minnesota, and gives frequent master classes and lectures around the United States. A native of Saint Paul, Minnesota, he earned his Doctorate at Rice University with Jon Kimura Parker, and studied at the University of Minnesota with Lydia Artymiw.
---
Hannah Frey
www.hannahtheviolinist.com/

Violinist Hannah Frey, originally from Clinton, South Carolina, is an active chamber and orchestral musician in St Louis, Missouri. She is first violinist of the Perseid Quartet, plays regularly with visiting shows at the Fox Theater, and is a member of Third Millenium World's Fair, an experimental folk music band. She was concertmaster of the Winter Opera St Louis Orchestra for many years, and has performed or collaborated with many other groups in the area including the St Louis Symphony, the Illinois Symphony, the MUNY Orchestra, and the Shakespeare Festival St. Louis.
Hannah is a dedicated educator with a large private studio. She is also on the violin faculty at Washington University of St Louis and teaches Elementary Strings in the Kirkwood School District. Hannah received both her Bachelor and Master of Music degrees in Violin Performance from the Cleveland Institute of Music, where she studied with Linda Cerone and William Preucil.
---
John Hennecken
www.johnhennecken.com/

With influences ranging from Mozart to M83, John Hennecken's music fuses classical clarity of form and intricate counterpoint with modern approaches to tonality and timbre. His works have been performed in the United States, France, Italy, Belgium, Poland, and Japan by ensembles such as Symphony Orchestra Augusta, Takarazuka City Symphony Orchestra, Georgia Southern Symphony, Atlanta Wind Symphony, Wisconsin Wind Orchestra, University of Georgia Wind Symphony, University of Illinois at Chicago Wind Ensemble, Wet Ink, and and the Trombones of the St. Louis Symphony. Select honors and awards include Virginia Center for the Creative Arts Fellowship, Hambidge Center Fellowship, International Tuba-Euphonium Association Harvey Phillips Award Winner, Morton Gould Young Composers Award Finalist, Tribeca New Music Merit Award, and American Prize Finalist. Hennecken's music has been recorded under the EMPiRES label, broadcast on Georgia Public Radio, and published by Potenza Music and Murphy Music Press. Hennecken earned his D.M.A. at the University of Georgia and his principal teachers were Adrian P. Childs, Leonard V. Ball Jr., and Douglas O'Grady. He is currently Assistant Professor of Music at Saint Norbert College in De Pere Wisconsin. In upcoming seasons, Hennecken is looking forward to the premiere of his second symphony with the Longmont Symphony Orchestra, the premiere of a new work with the Lawrence Conservatory Wind Ensemble, and the writing of his next commission for the Fox Valley Symphony Orchestra.
---
Yi-Lan Niu
Yi-Lan Niu started her music training at the age of four. She completed her masters degree in voice at the Eastman School of Music and her doctoral degree in vocal performance at the University of Wisconsin-Madison. Throughout her academic career, Niu has been the recipient of numerous awards and scholarships including the Joyce and William Wartmann Scholarship, UW-Madison Opera Props Award and scholarships to the Hot Springs Music Festival, the Madison Early Music Festival and the Vancouver Early Music Festival. A versatile performer, Niu presents a wide range of vocal music from Renaissance lute songs by John Dowland to the contemporary, minimalistic music of Steve Reich. Niu has appeared as a featured soloist with the University of Wisconsin-Madison Chamber Orchestra, the Dudley Birder Chorale, Civic Symphony of Green Bay and the St. Norbert College Chamber Singers & Wind Ensemble. She has been acclaimed for her performances of major works including "Gloria" by Antonio Vivaldi, "Messiah" by George Frideric Handel, "Carmina Burana" by Carl Orff, "Lord Nelson Mass" by Joseph Haydn and "Magnificat" by John Rutter. Her numerous operatic roles include Clorinda in "Combattimento di Tancredi e Clorinda," Costanza in "La Griselda," and Serpina in "La Serva Padrona.
---
Daniel Zajicek
danzajicek.com/

Daniel Zajicek is an American composer and artist, whose creative output has been described as both "significant" and "unsettling." Works by Daniel include installation and video art, as well as electronic, orchestral, operatic, vocal, rock ensemble, and instrumental pieces. Honors have come from ASCAP, IMTA, MMTA, and the National Guild of Piano Teachers, with notable performances at the Ft. Worth Opera, Cactus Pear Music Festival, Nautilus Music-Theater, Diverseworks, SEAMUS, as well as performances in Portugal, the Czech Republic, England, Cuba, Canada, China, and Taiwan. He studied composition and piano at the University of Missouri-Kansas City, electroacoustic music and composition at the University of North Texas, and received a doctoral degree in composition from Rice University's Shepherd School of Music. As a performer, Daniel spends most of his time playing the guitar and bass with bluegrass, gospel, and rock ensembles.
In addition to visiting composers and artists, the 2022 concerts feature performances by members of the fantastic SIU School of Music Faculty: